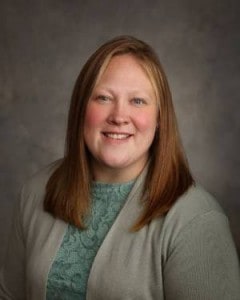 The United Way of Rutland County (UWRC), the largest non-governmental fundraiser for local services in the community, announced today that its Board of Directors has appointed Ashley Bride as Executive Director. She replaces Caprice Hover who retired from her position at the beginning of the month.
The Board of Directors, through an Executive Search Committee, began the search process starting in January and did a full review of the scope of responsibilities.
"Ashley is a wonderful and exciting choice for this position," said Cathy Petrini, President of the Board of Directors at UWRC. "She brings a lot of experience from her work as the former Executive Director of Fair Haven Concerned and has demonstrated her skills as a leader with a vast knowledge of the growing needs in our community.
Bride, a graduate of Castleton University has extensive experience working in the non-profit sector. She first became involved with UWRC in 2013 as a partner agency receiving funding and then in 2020 as a board member serving as a grantee partner.  She has worked on several highly successful fundraisers, and continues working with community impact groups and the Vermont Community Foundation. Bride's work will continue as she transitions to UWRC and remains dedicated focusing on the needs within the community and donor cultivation.
"As former Executive Director for Fair Haven Concerned, I know how vital UWRC is to the community and the agencies funded,' said Bride. "It is important that we continue to grow the resources available to the programs that address our community's most pressing needs."
"I am looking forward to getting to work with all of the partnering agencies in Rutland County." Bride added. "There are a lot of businesses and agencies who I already work closely with and I look forward to continuing to strengthen relationships with those already affiliated with UWRC."
About United Way of Rutland County
United Way of Rutland County is one of 1,200 United Ways in the United States and one of 1,800 worldwide. Serving Rutland County residents since 1943, we are an independent, non-profit organization dedicated to advancing the common good, focusing on health, education and financial stability. We are the largest non-governmental fundraiser for local services in our community.